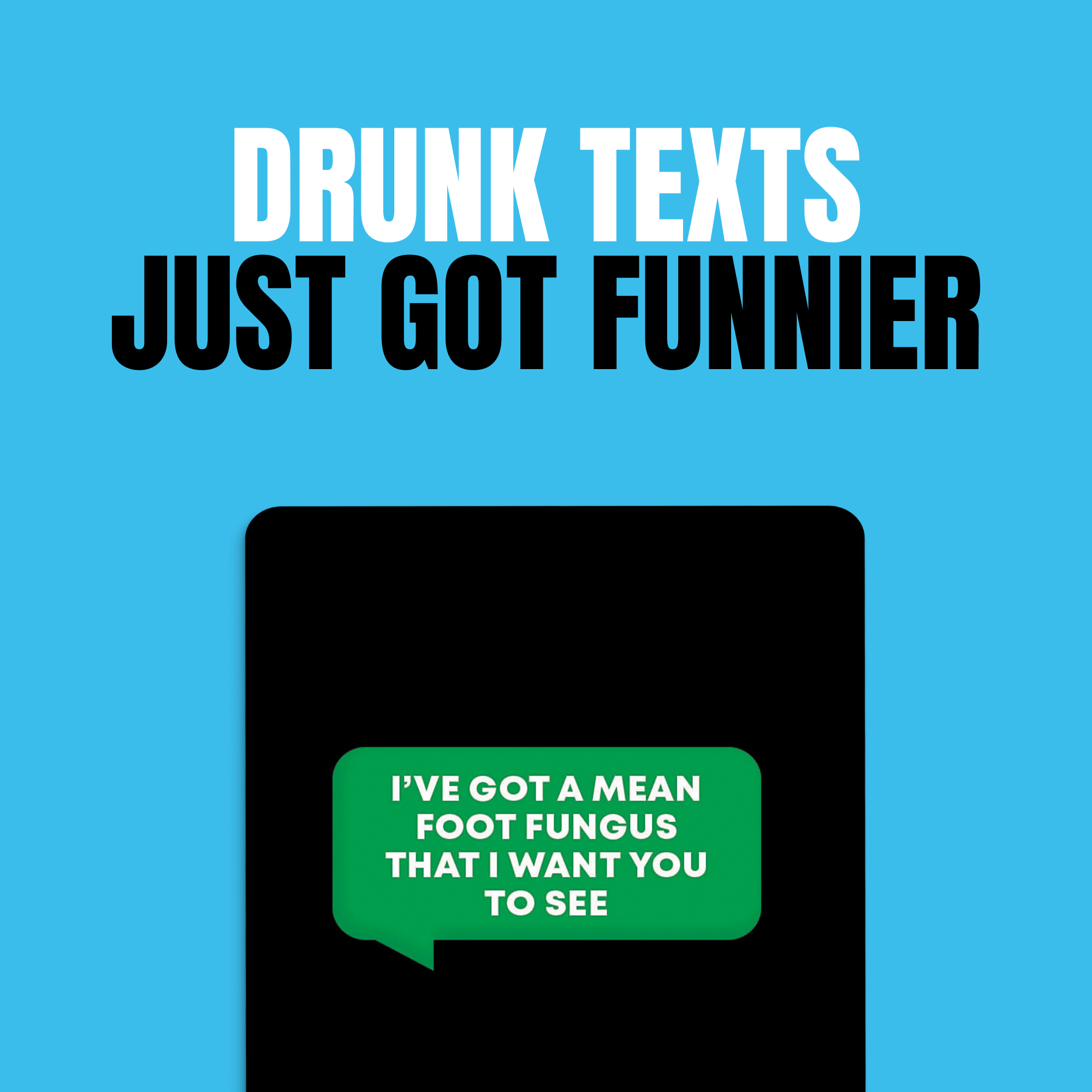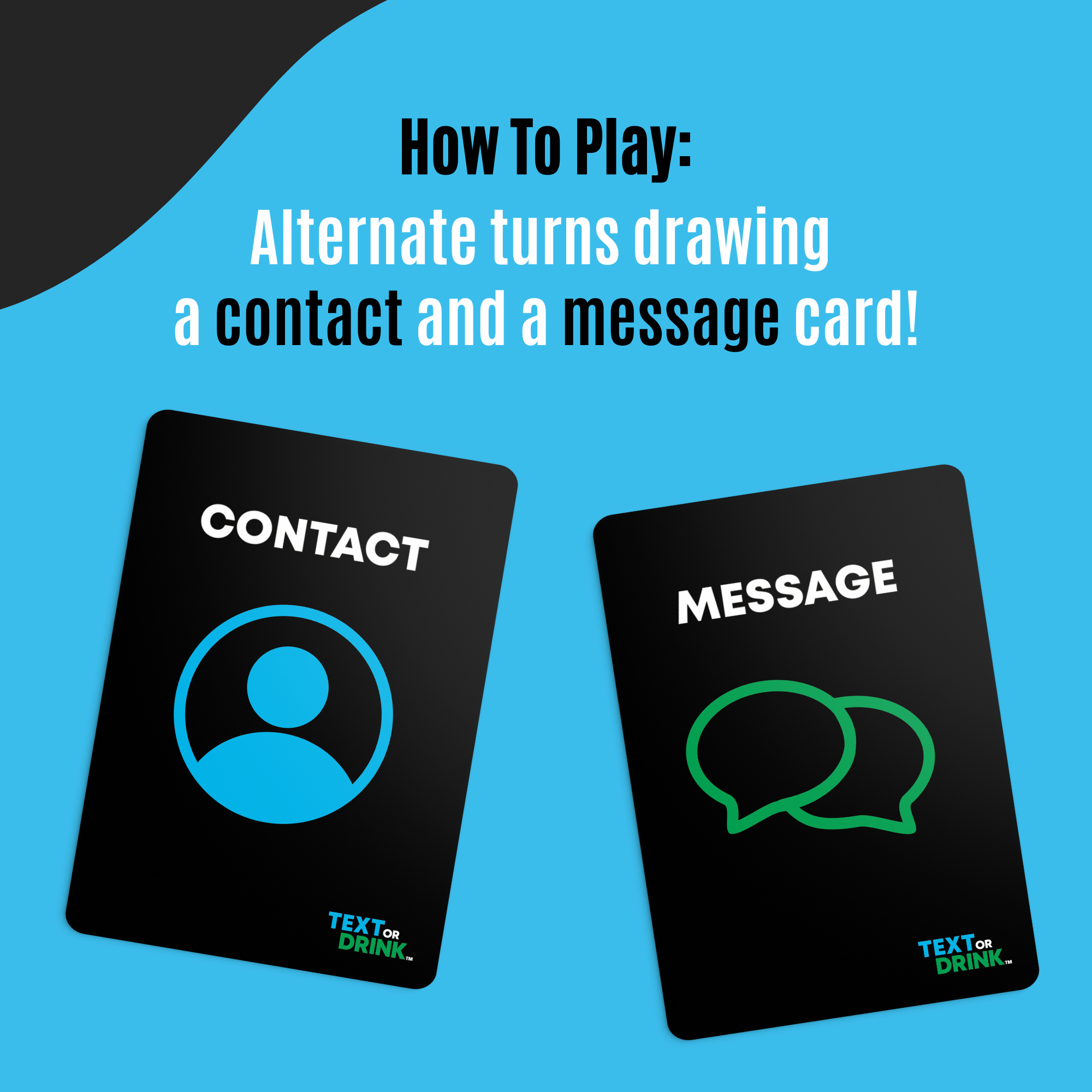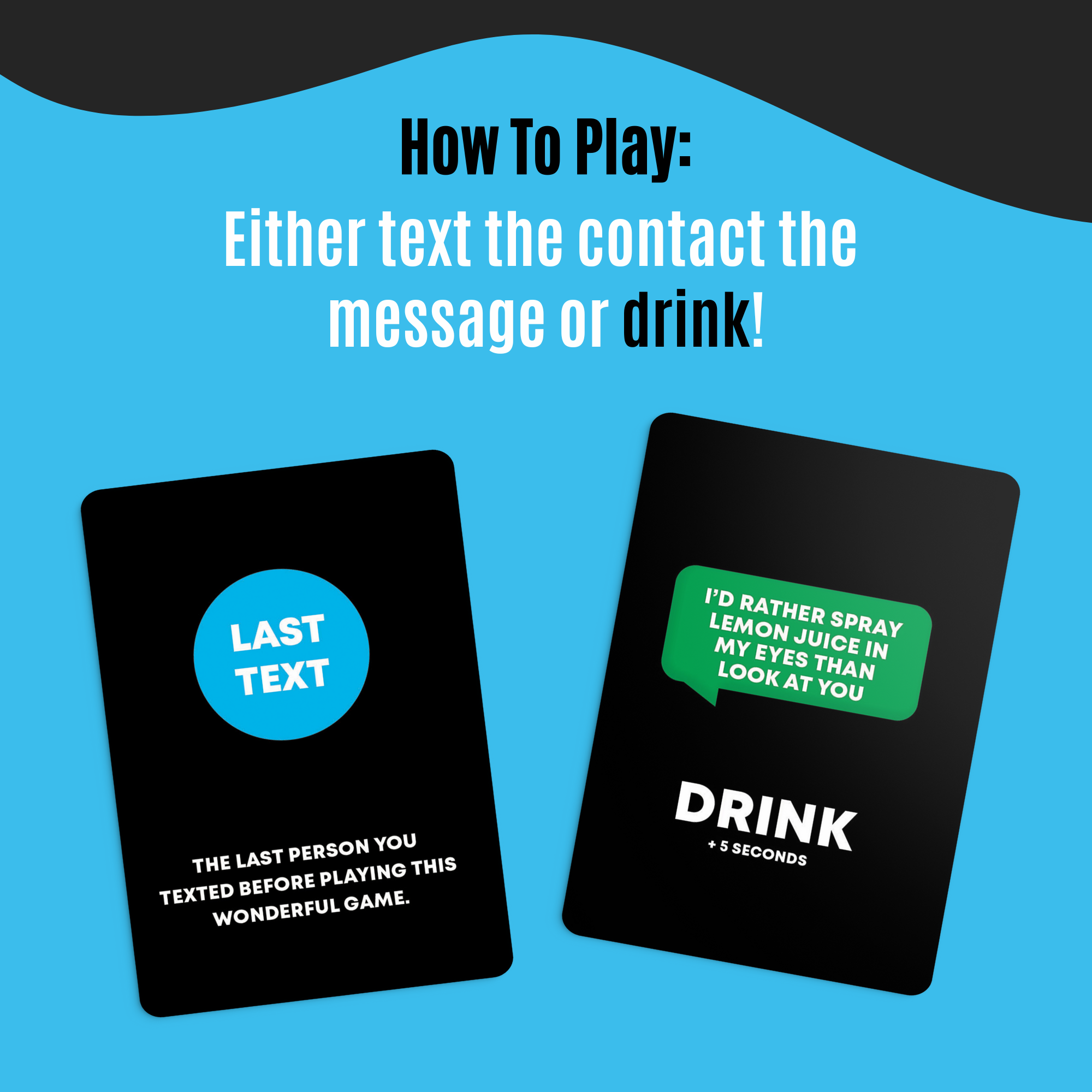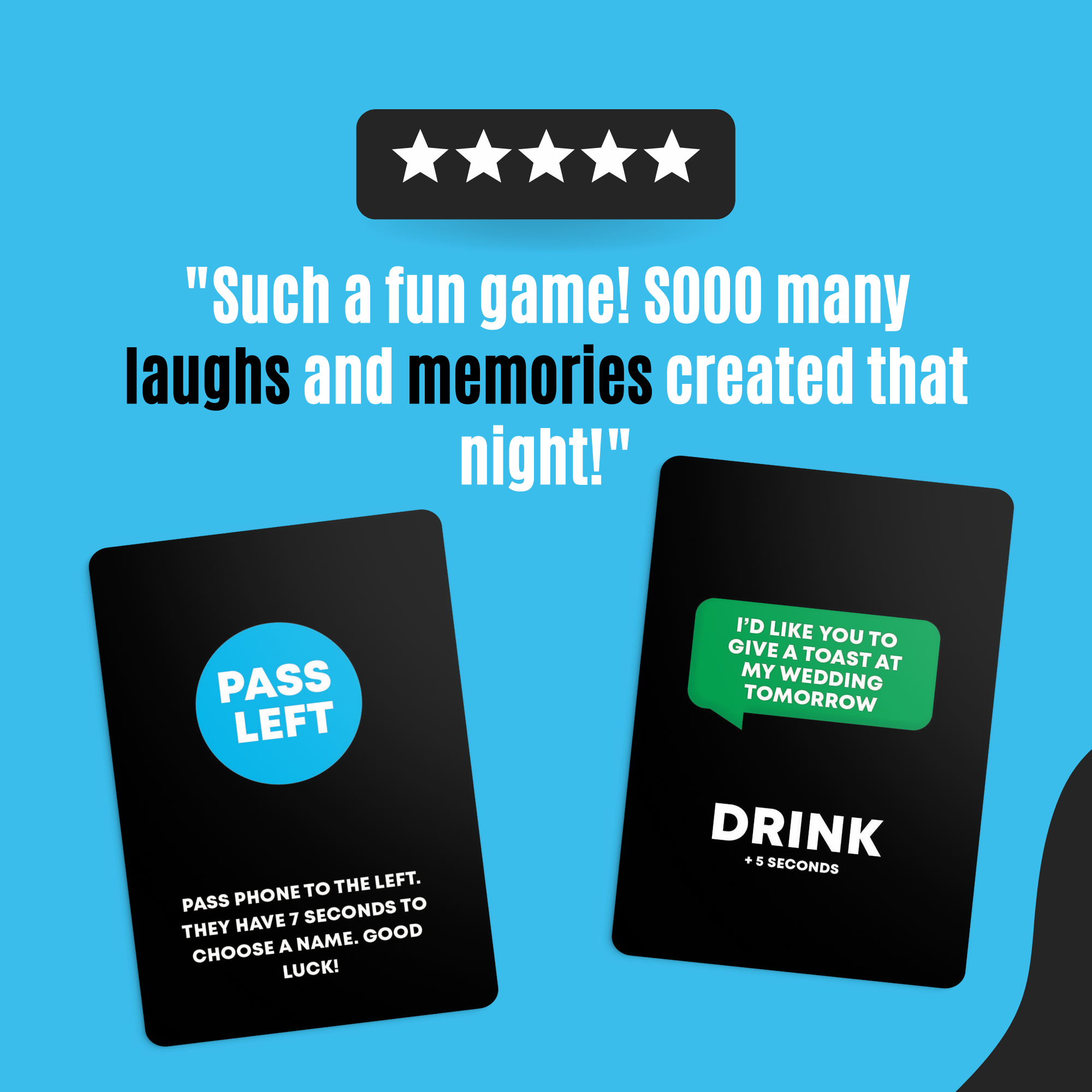 Text or Drink
📦 Ships from Tennessee, USA.out your products.
Have a blast playing Text or Drink with your friends!
Text or Drink is the perfect excuse to drunk text! You can either text the contact shown on the card or drink. Either way it's going to be a hilarious night!
📲 The perfect excuse to drunk text
🍻 Always have the option to drink
😂 Have a blast with your friends
How To Play
Text or Drink is extremely easy to play! Simply follow the rules below:
Before the game starts, shuffle the deck and place the contact cards in 1 deck and the message cards in another.
Draw a contact card and find that contact in your phone. Now draw a message card. You can text the contact the message or drink!
You can't text back until it's your turn again
If you drink 4 times in a row you have to text or take a shot
If you don't have the Contact, drink
First person to text 5 people wins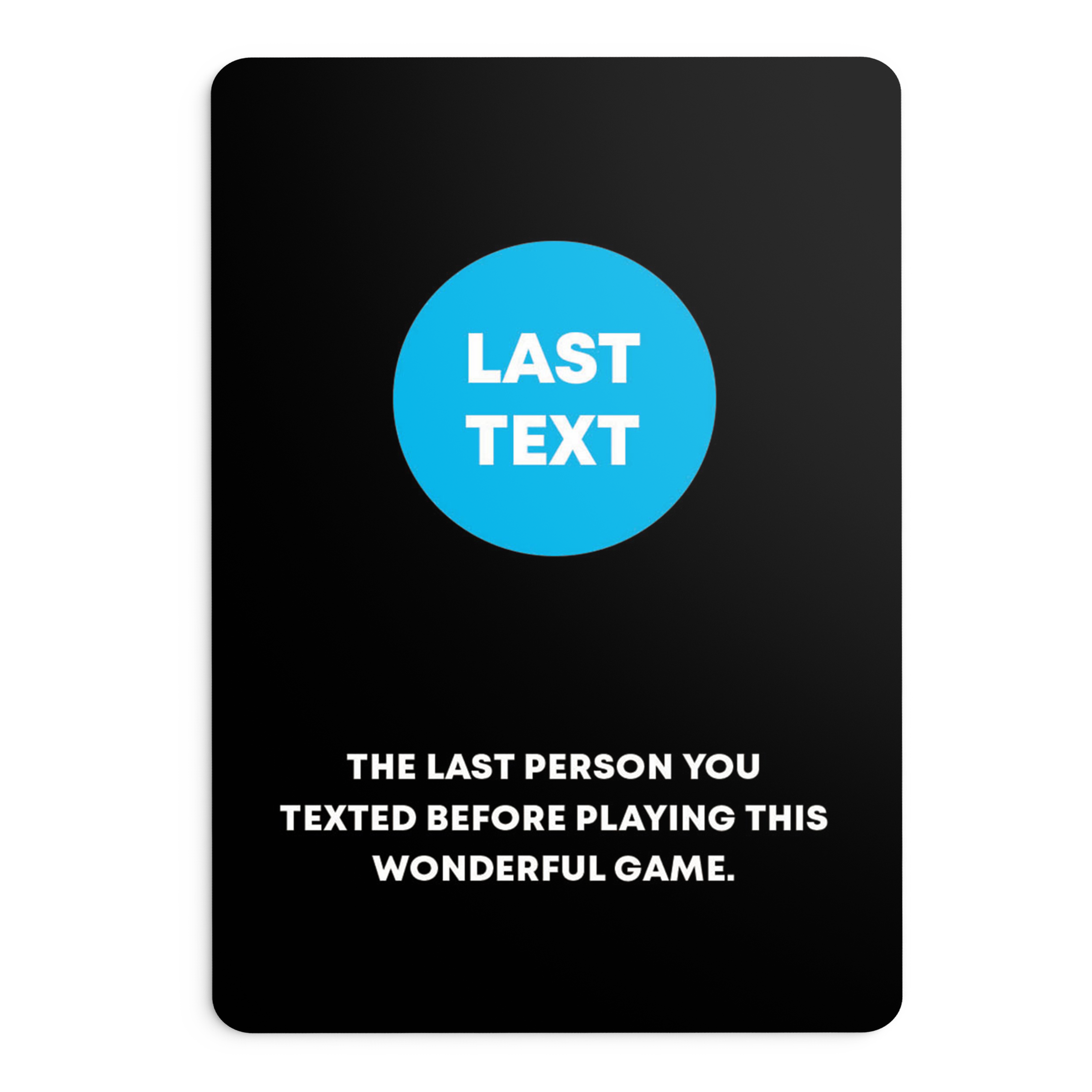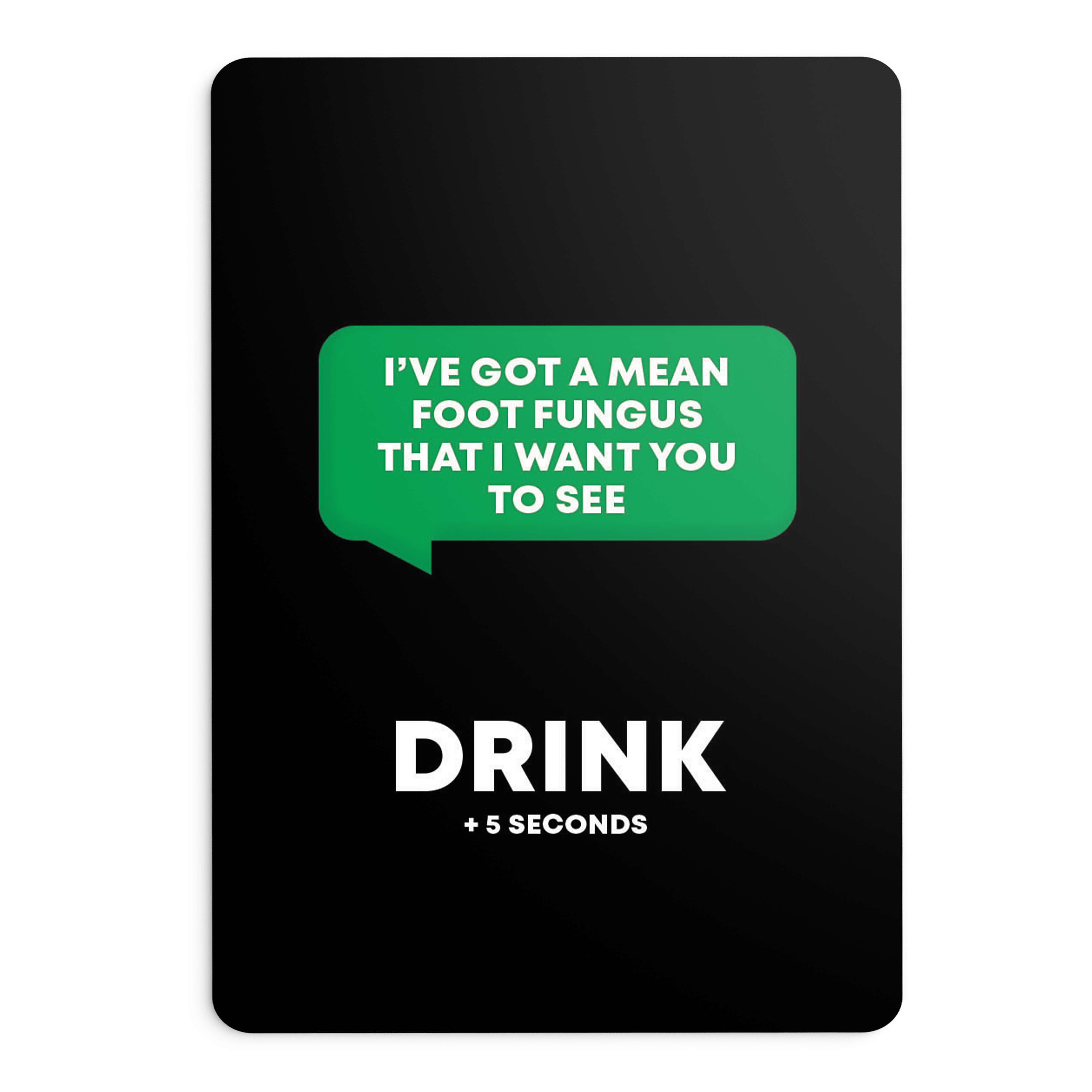 Funny Messages
The message cards in Text or Drink are absolutely hilarious. You decide, are you going to text or drink?
Many Contacts
There is a wide variety of contacts you could text. From family members, friends, to random contacts in your phone. Sometimes you might not be the one deciding!
What Our Customers Are Saying
The Ultimate Party Game
Words can't express how much I love this game. I played it with my friends and we were dying laughing each round as the text message cards were revealed. The game is designed well so that there's a good mix between sexy, sweet, and hilarious texts to send... or not (and drink instead)! Buy this game if you want to have a good time with your friends. I promise you will.
Super Fun
I got this game to try out with my fellow college-age friends. It's so much fun and you honestly learn more about the contacts in everyone's phone more than anything else. Nothing better than sending a raunchy drunk text to a tinder match from 3 years ago LMFAO.
We love games!
At first people were apprehensive about who they would have to text but as people choose to drink and become a little more relaxed it turned out to be so much fun!
This product is rated 4.7 of 5.0 stars.
It has received 34 reviews.
Super Fun!
My friends and I got a kick out of this game. Super fun and would highly recommend for a group game night!
Was perfect to pregame with!
My friends and I had so much fun playing! We were crying laughing the entire time. Highly recommend to do something new for a pregame or party.
Hilarious
Best game I've played. It's more of a how daring are you? I feel bad about some messages so make sure to tell the people you contact its just a game. But ll in all, it's hilarious and will keep everyone entertained.
Amazing
The best game I've played so far. So much fun
I still haven't gotten it